Syllabus for Assistant Prosecution Officer rpsc.rajasthan.gov.in : Public Service Commission
Organisation : Rajasthan Public Service Commission
Announcement : Syllabus
Designation : Assistant Prosecution Officer
Home Page : http://rpsc.rajasthan.gov.in/Syllabus.aspx
RPSC Rajasthan Assistant Prosecution Officer Syllabus
Scheme and Syllabus of competitive examination for the post of Assistant Prosecution Officer
Related : RPSC Rajasthan Syllabus for RAS/RTS Combined Competitive Examination : www.syllabus.gen.in/356.html
A. Written Examination :
(i) The examination scheme for recruitment shall consist of an objective type examination and interview.
(ii) The standard of the paper-II (Language paper) will be that of Senior Secondary level.
(iii) Paper shall include the following subjects carrying the number of marks and time allowed, as shown against them :
Paper Subjects Marks Time
I Law 150 3 Hours
II Language-General Hindi and General English 50 2 Hours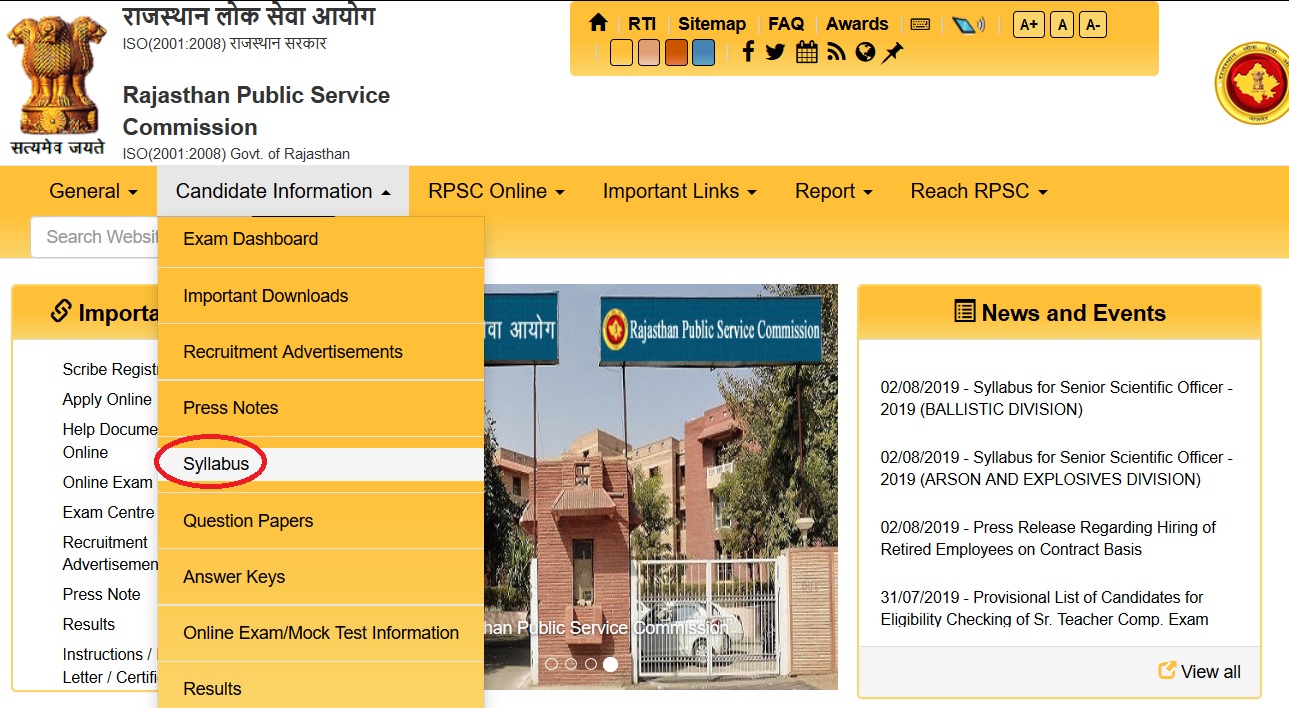 B. Interview :
(i) The interview shall carry 25 marks, the Commission shall call for interview up to three times of vacancy (category wise), the candidates who have obtained a minimum of 35% marks in each paper and 40% marks in aggregate in the written examination.
(ii) It shall be compulsory for the candidate to obtain a minimum of 05 marks in interview to recommend him for appointment.
Syllabus for competitive examination :
The competitive examination shall include the following papers and each paper shall carry the number of marks as shown against them. Detailed syllabus of each paper for the examination will be as prescribed by the Commission, from time to time and will be intimated to the candidates within the stipulated time in the manner as the Commission deems fit.
Part-A
Indian Penal Code 1860
1. Introduction – Sections 1 to 4 (Ch – I)
2. General Explanations – Sections 6 to 52A (Ch- II)
3. Of Punishments – Sections 53 to 75 (Ch. – III)
4. General Exceptions – Sections 76 to 106 (Ch. – IV)
5. Abetement – Sections 107 to 120 (Ch. – V)
6. Criminal Conspiracy – Sections 120 A & B (Ch. V – A)
7. Of Offence against the State – Sections 121 to 130 (Ch. – VI)
8. Of Offence relating of the Army, Navy and Air Force- Sections 130 to 140 (Ch. – VII)
9. Of offence against the Public Tranquility Sections 141 to 160 (Ch. – VIII)
10. Of Contempts of the Lawful Authority of Public Servants Sections 172 to 190 (Ch. – X)
11. Of False Evidence of offence against Public Justice Sections 191 to 1229-A (Ch. – XI)
12. Of offence relating to Coin & Government Stamps Sections 230 to 263-A (Ch. – XII)
13. Of offence affecting the Public Health, safety, convenience, Decency and Morals Sections 268 to 294-A (Ch. – XIV)
14. Of offence affecting the human body Sections 299 to 377 (Ch. – XVI)
15. Of offences against property Sections 378 to 462 (Ch. – XVII)
16. Of cruelty by husband or relatives of husband Sections 498-A (Ch. – XX-A)
17. Of Defamation Sections 499 to 502 (Ch. – XXI)
18. Of Criminal Intimidation, insult and annoyance Sections 503 to 510 (Ch. – XXII)
19. Of attempts to commit offences Sections 511 (Ch. – XXIII)
Part-B
Criminal Procedure Code, 1973 and Indian Evidence Act, 1872 Criminal Procedure Code, 1973:-
1. Chapter –I Preliminary Sections 1 to 5
2. Chapter-II Constitution of Criminal Courts and Offences Sections 6 to 25A
3. Chapter-III- Power of Courts Sections 26 to 35
4. Chapter –IV- A Powers of Superior Officers of Police Section 36 B Aid to the Magistrates and the Police Sections 37 to 40
5. Chapter-V- Arrest of persons Sections 41 to 60-A
6. Chapter-VI- Process to Compel Appearance Sections 61 to 90
7. Chapter-VII- Process to Compel the production of things Sections 91 to 105 50
8. Chapter-VII- A Reciprocal arrangements for assistance in certain matters and procedure for attachment and forfeiture of property Sections 105-A to 105-L
9. Chapter-VIII- Security for keeping the peace and good behavior Sections 106 to 124
10. Chapter-IX- Order for maintenance of wives, children and parents Sections 125 to 128
11. Chapter-X- Maintenance of Public order and tranquility Sections 129 to 148
12. Chapter-XI- Preventive Action of police Sections 149 to 153
13. Chapter- XII- Information to the Police and their power to investigate Sections 154 to 176
14. Chapter-XIII- Jurisdiction of the criminal courts in inquiries and trials Sections 177 to 189
15. Chapter- XIV- Conditions requisite for initiation of proceedings Sections 190 to 199
16. Chapter-XV- Complaints to Magistrate Sections 200 to 203
17. Chapter-XVI- Commencement of proceedings before Magistrate Sections 204 to 210
18. Chapter-XVII- The Charge Sections 211 to 224
19. Chapter XVIII- Trial before a Court of Session Sections 225 to 237
20. Chapter XIX- Trial of Warrant cases by Magistrates Sections 238 to 250
21. Chapter XX- Trial of Summon-cases by Magistrates Sections 251 to 259
22. Chapter XXI- Summary Trials Sections 260 to 265
23. Chapter XXI-A- Plea Bargaining- Sections 265A to 265 L
24. Chapter XXIII- Evidence in Enquiries and Trials Sections 272 to 299
25. Chapter XXIV- General provisions as to inquiries and Trials Sections 300 to 327
26. Chapter XXVII- The Judgment Sections 353 to 365
27. Chapter XXIX- Appeals Sections 372 to 394
28. Chapter XXX- Reference and Revision Sections 395 to 405
29. Chapter XXXI- Transfer of Criminal Cases Sections 406 to 412
30. Chapter XXXII- E Suspension, remission and commutation of Sentences Sections 432 to
31. Chapter XXXIII- Provision as to Bail and Bonds Sections 436 to 450
32. Chapter XXXVI- Limitation for taking cognizance of certain offences Sections 467 to 473
33. Chapter XXXVII- Miscellaneous, The First and Second Schedule Sections 474 to 484
Indian Evidence Act, 1872
1. Definition Section 1 to 4
2. Of the Relevancy of facts Sections 5 to 55
3. Of oral evidence Sections 59-60
4. Of documentary evidence Sections 61 to 78 and 89 to 90-A
5. Of the exclusion of oral by documentary evidence Sections 91 to 100
6. Of burdens of Proof Sections 101 to 114-A
7. Of Witnesses Sections 118 to 134
8. Of the examinations of witnesses Sections 135 to 166
9. Of improper admission & rejection of evidence Section 167
Part-C
1. The Narcotic Drugs and Psychotropic Substances Act, 1985;
(i). Chapter- I- Preliminary Sections 1 to 3
(ii). Chapter-II- Authorities and Officers Sections 4 to 7
(iii). Chapter-III- Prohibition, Control and Regulation Section 8 to 14
(iv). Chapter- IV- Offences and Penalties Sections 15 to 40
(v). Chapter-V- Procedure Sections 41 to 68
(vi). Chapter V-A- Forfeiture of property derived from, or used in illicit traffic Sections 68A to 68Y
(vii). Chapter VI- Miscellaneous Sections 69 to 83
2. The Scheduled Castes and Tribes (Prevention of Atrocities) Act, 1989;
(i). Chapter- I- Preliminary Sections 1 & 2
(ii) Chapter-II- Atrocity Section 3 to 9
(iii). Chapter-III- Removal Section 10 to 13
(iv). Chapter- IV- Special Court Section 14 & 15
(v). Chapter-V- Miscellaneous Sections 16 to 20
3. The Arms Act, 1959;
(i). Preliminary
** Short title, extent and Commencement Section 1
** Definitions and interpretation Section 2
(ii). Acquisition, Possession, Manufacture, Sale, Import, Export and Transport of ARMS and Ammunition Section 3 to 12
(iii). Powers and Procedure Section 19 to 24B
(iv). Offences & Penalties Section 25 to 33
(v). Miscellaneous Sections 34 to 41, Section 45 and 46 50
4. The Rajasthan Excise Act, 1950;
(i). Chapter- I-Definition Sections 3 to 7
(ii). Chapter-II- Control and Establishment Section 8-10A
(iii). Chapter-III- Import, Export and Transport Section 11 to 25
(iv). Chapter- IV- Manufacture, Possession and Sale Sections 16 to 27
(v). Chapter-V- Duties and Fees Section 28 to 30AA
(vi). Chapter VI- Licenses, Permits and passes Sections 31 to 38
(vii). Chapter VII- General Provisions Sections 39 to 42
(viii). Chapter VIII- Powers and Duties of Officers Sections 43 to 53
(ix) Chapter IX- Offences and Penalties Sections 54 to 58A
(x) Chapter X- Exemptions Section 81
5. The Essential Commidities Act, 1955- All the provisions contained in this Act i.e. Sections 1 to 16
(i) Definitions Section 2
(ii) ** Power to control production supply, distribution, etc. of essential commodities Section 3, 3A, 3B, 3C
** Effect of contravention of an order made under section 3, Section7
** Attempt to contravene or abetment of contravention of an order made under section 3, Section 8
** False statements Section 9
** Offences by Companies Section 10, 10B
** Offences to be cognizable and bailable Section 10A
** Presumption as to culpable mental state Section 10C
** Cognizance of offences Section 11
** Sentence of fine Section 12
** Power to summarily try the cases Section 12A
** Prohibition to grant injunction etc. Section 12B
** Burden of proof in certain cases Section 14
** Protection of action taken in good faith Section 15
(iii)
** Confiscation of food grains, edible oilseeds and edible oils Section 6A, 6B
** Appeal against order made under Section 6A, Section 6C
6. The Pre-conception and Prenatal Diagnostic Techniques (Prohibition of Sex Selection) Act, 1994;
(i). Preliminary
** Short title extent and Commencement Section 1
** Definitions Section 2
(ii). Regulation of Genetic Counseling centers, Genetic Laboratories and Genetic Clinics Section 3, 3A, 3B
(iii).Regulation of Pre-natal Diagnostic Techniques Section 4 to 6
(iv) Registration of Genetic Counseling Centers, Genetic Laboratories and Genetic Clinics Section 18 to 21
(v) Offences and Penalties Section 22 to 28
7. The Protection of Children from Sexual offences Act, 2012
(i). Preliminary: Short title, extent and commen cement; Definition Section 1 to 2
(ii). Sexual offences against children:
** Penetrative Sexual assault and punishment therefor Section 3 & 4
** Aggravated penetrative sexual assault and punishment therefor Section 5 & 6
** Sexual Assault and punishment therefor Section 7 & 8
** Aggravated Sexual Assault and punishment therefor Section 9 & 10
** Sexual harassment and punishment therefor Section 11 & 12
(iii). Using child for pornographic purposes and punishment therefor; punishment for storage of pornographic material involving child Section 13 to 15
(iv) Abetment of and attempt to commit an offence under the Act Section 16 to 18
(v) Procedure for reporting of Cases Section 19 to 22:-
** Reporting of offences
** Obligation of media, studio and photographic facilities to report cases
** Punishment for failure to report or record a case
** Punishment for false complaint or false information
(vi) Procedure for recording statement of the child Section 24 to 27
** Recording of statement of the child by a police officer
** Recording of statement of the child by a Magistrate
** Additional provisions regarding statement to be recorded
** Medical examination of a child