GATE Mathematics (MA) Syllabus 2023
Organisation : Graduate Aptitude Test In Engineering GATE
Exam Name : Mathematics (MA) Exam
Announcement : GATE Mathematics (MA) Syllabus 2023
Website : https://gate.iitk.ac.in
GATE Mathematics (MA) Syllabus
In each of the following subjects the topics have been divided into two categories – Core Topics and Special Topics. The corresponding sections of the question paper will contain 90% of their questions on Core Topics and the remaining 10% on Special Topics.
Related / Similar Syllabus : VITEEE Mathematics Syllabus 2023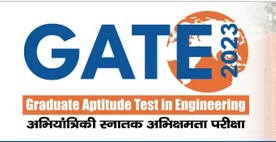 Mathematics (MA) Syllabus
Calculus:
Functions of two or more variables, continuity, directional derivatives, partial derivatives, total derivative, maxima and minima, saddle point, method of Lagrange's multipliers; Double and Triple integrals and their applications to area, volume and surface area; Vector Calculus: gradient, divergence and curl, Line integrals and Surface integrals, Green's theorem, Stokes' theorem, and Gauss divergence theorem.
Linear Algebra:
Finite dimensional vector spaces over real or complex fields; Linear transformations and their matrix representations, rank and nullity; systems of linear equations, characteristic polynomial, eigenvalues and eigenvectors, diagonalization, minimal polynomial, Cayley-Hamilton Theorem, Finite dimensional inner product spaces, Gram-Schmidt orthonormalization process, symmetric, skew-symmetric, Hermitian, skew-Hermitian, normal, orthogonal and unitary matrices; diagonalization by a unitary matrix, Jordan canonical form; bilinear and quadratic forms.
Real Analysis:
Metric spaces, connectedness, compactness, completeness; Sequences and series of functions, uniform convergence, Ascoli-Arzela theorem; Weierstrass approximation theorem; contraction mapping principle, Power series; Differentiation of functions of several variables, Inverse and Implicit function theorems; Lebesgue measure on the real line, measurable functions; Lebesgue integral, Fatou's lemma, monotone convergence theorem, dominated convergence theorem.
Complex Analysis:
Functions of a complex variable: continuity, differentiability, analytic functions, harmonic functions; Complex integration: Cauchy's integral theorem and formula; Liouville's theorem, maximum modulus principle, Morera's theorem; zeros and singularities; Power series, radius of convergence, Taylor's series and Laurent's series; Residue theorem and applications for evaluating real integrals; Rouche's theorem, Argument principle, Schwarz lemma; Conformal mappings, Mobius transformations.
Ordinary Differential Equations:
First order ordinary differential equations, existence and uniqueness theorems for initial value problems, linear ordinary differential equations of higher order with constant coefficients; Second order linear ordinary differential equations with variable coefficients; Cauchy-Euler equation, method of Laplace transforms for solving ordinary differential equations, series solutions (power series, Frobenius method); Legendre and Bessel functions and their orthogonal properties; Systems of linear first order ordinary differential equations, Sturm's oscillation and separation theorems, Sturm-Liouville eigenvalue problems, Planar autonomous systems of ordinary differential equations: Stability of stationary points for linear systems with constant coefficients, Linearized stability, Lyapunov functions.

Download GATE Mathematics (MA) Syllabus
Download Full GATE Mathematics (MA) Syllabus Here :
http://www.syllabus.gen.in/uploads/pdf2022/3080.pdf